Paxcess Portable Generator 100W Power Station, 40800mAh 151Wh with Dual 110V AC Inverter, DC 12V, USB Ports
♦ Powerful AC, USB and 12V Outputs keep all your devices like iPhone, iPad, laptop, CPAP machine and small appliances charged up
♦ Features a variety of outputs, 3* 12V DC port / 2* 110V AC outlet inverter / 2* USB 5V port to ensure have the power you need at any time
♦ Can be charged 3 easy ways: Wall outlet; Solar panel (recommended Paxcess 50w solar panel); or 12V car charger
♦ Paxcess generator is completely safe to use inside your house, tent, and car (no toxic fumes). It's also silent
♦ Weights 3.3lbs only, ideal size for traveling, fits perfectly in the backpack or backseat on long road trips
♦ Battery Management System (BMS) undertakes voltage control, temperature control and more advanced safety operations
♦ 100% Ssatisfaction guaranteed. If you not happy with your purchase within 45 days, you can return with 100% money back
♦ 100% Risk Free. If your generator fails within 1 year time, Paxcess will send you brand new replacement
[amazon box="B01M3S00H0″]
---
The Paxcess 100-watt portable generator is one of the beefier Portable Solar Generators you can buy. It comes with a 40,800 mAh that lasts hours of use. It supports premium built quality and offers several power outlets, all in a compact package.
Following, we will review this inverter and see whether its worth your money or not.
Paxcess 100-Watt Portable Generator Product Features
Clean Power
PAXCESS charges itself from a separately sold portable solar panel (ideally 50W). It needs 7-9 hours to recharge fully via solar power, and 8 hours from a wall outlet. It works silent and gas free, you can easily use it indoor.
Safety Measures
PAXCESS Portable Generator comes with advanced safety features including a Battery Management System that limits current and voltage. Temperature control protects the Inverter against high temperature and preserves battery life. This generator meets IATA Safety Standards.
Portable Solution
PAXCESS 100-Watt generator only weighs only 3.3 lbs, features 8 different power outlets including 2 USB, DUAL AC Output with one universal input. It features a carry handle and can easily fit a small storage space with small dimensions of 6.9"x6.5"x3".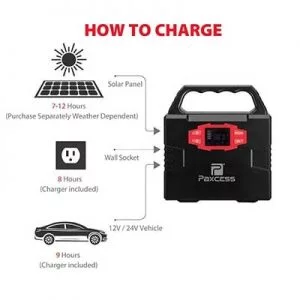 Reliable Built
PAXCESS products boast a solid built. The overall built quality of this generator feels premium with some shockproof reinforcement overall the structure. Thanks to these, the portable generator can survive drops, but we don't recommend you test it.
Pros
• Safety Measures
• Small Size
• Lightweight
• Reliable
• 45 Days Return Warranty
• 8 Hours plus capacity
• 7 Separate Power Outlets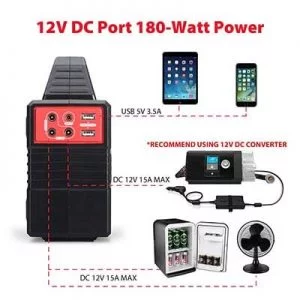 Cons
• LCD Lights tend to break down
• Not for Large-Power Electrical Appliances
Who Would Buy This Product?
paxcess 100W portable generator is designed for everyday use. It makes an excellent choice for a portable electric generator to take on your next camping expedition. It is a reliable option to deal with short power failures or Blackouts.
If you want something to sustain yourself during emergencies, PAXCESS portable generator lasts you 4-6 hours and help survive a major emergency including grid failures, or even a hurricane.
Is it Worth the Money?
PAXCESS 100-Watt Portable Generator Power Inverter packs a solid punch of power in a compact power. It's an affordable alternative to larger generators that run on gas. If you need a power backup that will last several hours without making much noise, PAXCESS will serve your needs.
For $290, the PAXCESS is quite powerful and comes in a well-built package that features several Outlets to power up different devices. So yes, this Portable Generator is the worth your money.
Guarantee
This portable generator comes with a 45 Day Guarantee. The company cares about its client and want to offer perfect user satisfaction. So, if you are not pleased with this purchase, then you can return the product without any question or hassle.
Customer Experience
The PAXCESS Portable Solar Generators garnered a positive response from their customers. Most reviews show the converter held true to 100-Watt Limit. 67% reviews on Amazon gave PAXCESS a "5 Star" rating. Most users praised its 8-hour capacity, small size, and multiple ports.
However, some unpleased buyers complained about some unreliability issues like LCD lights stop working or power outlets die.
Verdict
The PAXCESS 100W Portable Generator packs a powerful punch of power in a compact form. This is a mid-range power supply that easily replaces a gasoline generator.
This portable generator holds true to 100-Watt capacity and can power multiple devices with 2 (110 V) AC, 3 (12V) DC, and 2 USB 5V Ports. It recaches from the sun and can last for 8 hours under full load. So yes, if you need a power backup or a portable power solution, it will serve you well.