Jackery HLS 290 Portable Lithium Battery Power Station (Honda)
♦ Chosen by American Honda Motor Co., Inc. as a best‐in‐class outdoor portable power stations
♦ Eco-friendly portable power for those on the move
♦ Standard Pure Sine Wave AC outlet, provides stable and dependable power to all AC relied devices which rated under 200 watt(surge 400W)
♦ Standard 12V/10A carport and two 5V/2.4A USB ports can poer up devices like car coolers/mini frig, car vacuums, laptops, phones etc
♦ Recharge 3-ways: Recharge with Solar panel (Sold Separately); From a carport or an AC wall outlet
♦ Noise-free, enjoy vacation quietly; No emission during work, therefore does no harm to personal health, nor to the nature
♦ Pure Sine Wave Inverter ensures safely powering and protecting devices from over-voltage, over-current, over-temperature etc
♦ Comes with 2 years product warranty and 24/7 customer support


---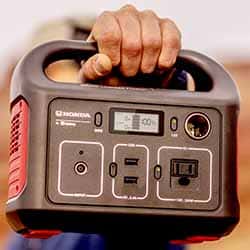 Portable power stations such as Jackery Honda HLS 290 are increasing becoming popular for home and outdoor activities.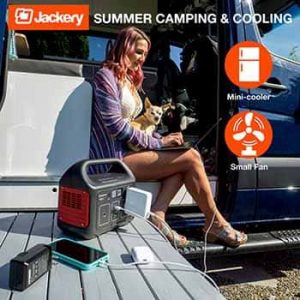 The Honda By Jackery HLS 290 power station is available in perfect packing. It is available in a box that has a charger, and an AC cable as well. Additionally, you get a 12V cable with this power station also so this is why it can get charged using an electrical outlet.
The best part is that you will get a cloth bag also for carrying the cables.
Features of the HLS 290 Power Station
Attractive color combination
What you will like of this power station is that the color combination is awesome. You will get to see grey plastic with red accent. The Honda name gets displayed in white on the power station, so you will feel like looking at it.
Impressive design
You will get to see charge ports on the front face of this power station. The interesting part is that HLS 290 Power Station has a backlit LED display also. Additionally, the sides have grills for cooling.
There is an integrated handle at the top of this power station. HLS has the minimum weight. It weighs about 6.6 pounds.
Power to charge devices multiple times
The remarkable aspect about this power station is that it can charge a smartphone about 17 times. You can charge a tablet about 14 times using HLS.
Multiple accessories available with this power station
You will get loads of accessories with this power station. You will get one cord carrying bag, one car adapter charger and one AC charger with HLS.
Another fantastic aspect of this power station is that even if it is left unused, the power station will show a 100% charge at the end of the day.
If you use this power station to charge your Samsung 42 inch TV, then it will take about 3.5 hours to charge the TV. A mini-fridge can get charged in about 6 hours using HLS. It can also charge a heated blanket in about 8 hours.
The power station takes about 1 hour to charge a gaming desktop. The charging of a box fan will take about 10 plus hours.
Pros
• Jackery Honda HLS 290 offers long-lasting power.
• You will not have to face any noise issues with HLS.
• It is a great option for charging electronic devices.
• The HLS power station personifies quality.
Cons
• The power station lacks a warning when the battery runs low.
Verdict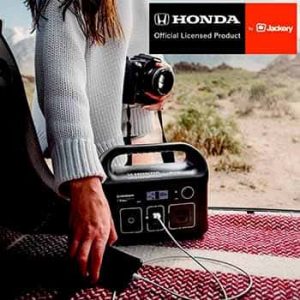 Jackery Honda HLS 290 Power Station is designed with intelligence. It tends to turn off automatically after 3 hours when the power is drawn under 10W. You can use this power station for generating power at camping sites or even when your car breaks down at a location.
The power station has an exceptional battery life also, so this gives you yet another reason to buy it with trust, and you will not have to be disappointed with the results.